Every eruption of market turmoil since the crisis has also yielded a signature deal that benefits from a return to sanity.
After all, without the mother of all government standoffs—the 2011 debt-ceiling fight—Warren Buffett may never have had the opportunity to plow $5 billion into Bank of America for a stake now worth $25 billion. Remember the 2015/2016 China slowdown that rocked high-multiple U.S. tech stocks? That helped Microsoft land LinkedIn and Vista Equity to buy Marketo. Both deals are already clear home runs.
Most recently, there was the October-to-December sell-off, a brutal end to 2018 in which markets posted the worst December returns in 90 years, driven by fears of rising interest rates, trade wars and a 35-day government shutdown. With the shutdown now over and markets rebounding nearly double digits in 2019, it looks like there's a signature deal emanating from the brief panic. Tech-focused private equity firm Thoma Bravo will be buying mortgage software specialist Ellie Mae for $99 a share in cash, or $3.7 billion.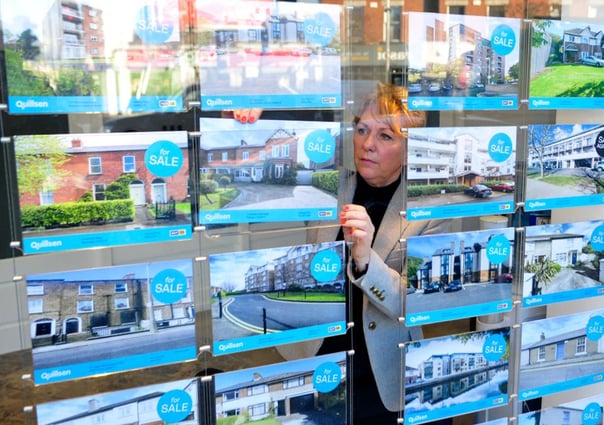 Ellie Mae is the kind of stock to sell and ask questions later if rising rates have one worried about a housing slowdown. Trading at a price-to-earnings ratio of about 50 for most of 2018, Ellie Mae's software is used by lenders in everything from the origination of a mortgage to underwriting and even the closing of home loans done online. Slowing end-market sales, high multiple? That's an easy sell for many traders of stocks. No surprise, Ellie Mae shares plunged from $114 to $59 between June and December as the sell-off intensified.
But the business cycle—or changes in perception on the duration of the cycle—is an inevitability in investing. Over the long run, identifying companies with products that are increasing share regardless of the economic circumstances is often more important than timing these changes. In the case of Ellie Mae, it attracted some of the sharpest investors on The Street for a business model that likely would have thrived in time, even if Federal Reserve chair Jerome Powell did clip the wings of the housing market with a mistimed rate hike.
Ellie Mae increasingly is the IT system powering the mortgage market, as rising mortgage standards increase the amount of verification information behind a loan, and borrowers and lenders move from paper to online.
Ellie's Encompass software is a soup-to-nuts platform for mortgage originators, where they can manage marketing, originate and process home loans, and handle the electronic completion of closing and funding documents. It means originators have a digital platform at their fingertips without the headaches that come with building and maintaining a technology stack. Furthermore, its Ellie Mae Network, where lenders, investors and service providers connect with originators to source loans, acts as a digital clearinghouse for loans. Originators pay for Ellie Mae's Encompass either through monthly subscription fees or based on volume. Lenders and investors on the Ellie Mae Network pay fees on a per transaction basis for deals through the network from Encompass users. Thus about a third of the company's revenues are volume driven, swinging with economic cycles. Critically, Ellie Mae—unlike Fannie Mae and Freddie Mac, with which it is often confused—undertakes no credit risk in the mortgage market. It competes against a fragmented set of mortgage IT service providers, from specialists BlackKnight and Calyx to fintechs like Blend and IT conglomerates such as Accenture and Wipro. Ellie Mae, however, is the leader.
With its end-to-end service, Ellie Mae counts 2,300-plus lenders as customers, and its network is around a quarter-million users strong. The stickiness of the business, embedded in banks, credit unions and online originators systems, means retention rates exceed 95%. Over the long run, Ellie Mae's positioning has won major market share; from 2013 to the present its revenues have quadrupled while the national mortgage volumes have peaked at around $2 trillion annually. Recurring revenues are growing at a 40% annualized clip.
Ellie Mae's increasingly entrenched position in the churning of the mortgage market is the sort of "moated" business Berkshire Hathaway's Warren Buffett has always hunted for. A mega-trend of mortgage market digitization also helps, so it's no surprise the company's attracted a base of Buffett-like analysts in the small and mid-cap space. Top Ellie holders include T. Rowe Price's winning small-and-mid-cap funds, Brown Capital Management, PRIMECAP, Kayne Anderson Rudnick and growth-obsessed Baillie Gifford, not to mention a smattering of hedge funds.
When markets began their plunge in October, Ellie Mae reported quarterly sales growth of 15% at $123 million, a slowing from 20%-plus growth in prior quarters, and profits fell 14% to $14.5 million. The results did little to stabilize Ellie's falling shares. But behind the softening numbers were big positives: Its double-digit growth came as nationwide mortgage activity slumped nearly 10%. In other words, Ellie gained share. Near its December lows, long-term bulls like Kayne Anderson Rudnick were adding to their holdings, filings show, in trades that are likely up 40% in about a month. However, Thoma Bravo looks poised to be the big winner.
Yes, Thoma's buying Ellie for an about 50% premium to its average closing price in the 60 days prior to February 1, but its $99 purchase price is about a 15% discount to the company's midyear highs. More importantly, at an enterprise value of about $3.4 billion, Thoma Bravo is paying an EV of less than seven times sales, in line with firms like Microsoft and Salesforce, and below Adobe. By the time Thoma looks to exit, however, Ellie could be a billion-dollar-a-year business, putting its EV/sales purchase price closer to 3x.
"Ellie Mae delivers powerful and innovative mortgage technology solutions across every channel of the residential mortgage sector, enabling lenders to originate more loans while reducing costs and driving efficiency, quality and compliance throughout the mortgage process," Thoma Bravo managing partner Holden Spaht said in a statement. In 2011, Ellie went public at a price of $6 a share, making it one of the best-performing stocks of the recovery. "Since the founding of Ellie Mae more than 20 years ago, our mission has been simple–to automate everything automatable for the residential mortgage industry," adds Ellie CEO Jonathan Corr, in a statement. There will be a 35-day go-shop period for Ellie to find buyers willing to pay more.
Bottom Line: When Ellie Mae's shares were halved by a growth scare that's unlikely to impact its prospects, longtime mutual fund holders like Kayne Anderson Rudnick doubled down. PE firm Thoma Bravo, however, will have the last laugh. It's acquiring the mortgage market software provider for what looks like a great price.
https://www.forbes.com/sites/antoinegara/2019/02/12/thoma-bravo-buys-ellie-mae-a-buffett-like-mortgage-software-business-that-attracted-wall-streets-best/#7f1eccc76808