The synergy is perfect says Shimon Alon after Attunity's $560 million acquisition by Qlik.
24 Feb, 2019 --- Shiri Habib-Valdhorn
"The reactions I'm getting from investors are, 'Way to go, congratulations.' Everyone was surprised, but we gave them an amazing return over the years. No one's complaining," Shimon Alon, chairperson and CEO of software company Attunity Inc. (Nasdaq: ATTUF) told "Globes" in explaining the sale of the company to Qlik for $560 million. Attunity's share price surged on Nasdaq and is approaching the $23.50 share price in the deal.
Qlick is owned by US private equity fund Thoma Bravo, which acquired it three years ago. Alon says, "This is a very large fund focusing on growth, not on generating value by cutbacks in companies' expenses. Thoma Bravo takes companies and improves them through investments. I happen to know them from their acquisition of Dynatrace, in which I was a director. They increased the company's revenue seven-fold in eight-nine years."
Alon adds, "Qlik works in analytics and visualization. Erez Margalit from Jerusalem Venture Partners invested in the company at the beginning. Qlik's aim is to grow in the big data market. It asked how to it could grow further - it gives customers analytics results, but the customers want to know where they got the data from, whether they're getting the right data, whether the data are at the right time and in the right place, and what to do about data they don't have. Qlik and other companies are beginning to realize that that the way to become a market leader is to connect the data to the analysis, because neither can do the job by itself. The data is the beginning of the process; the analysis is the continuation. That's what created all of the great interest in us. The connection between two leading and completely synergetic companies, Qlik and Attunity, will bring something new and revolutionary to the market. Qlik and Thoma Bravo believe that this is a very important path to growth."
Alon stresses that this is not an acquisition of technology. "They're not taking Attunity's technology and saying, 'Thanks a lot, guys.' They regard us as a phenomenal company with stunning growth, a company that switched to a short-term license sales business model and has regular revenue. They say, 'There's something in this company that we have to study.' They're buying technology, but they're also combining with us so that we can move together more quickly."
"Globes": If the company is growing and succeeding, why sell it?
Alon: "The idea is that nothing lasts forever. The sector is dynamic; it constantly changes. We switched to license sales, and the world is already moving in other directions. What you see today won't be there tomorrow. Large companies haven't always maintained the phenomenal 39% annual growth rate (Attunity's growth rate in 2018, S. H.-V.). We thought about how we could combine with someone and become stronger and less fragile. I look at the investors on the one hand and the employees on the other, and also at the customers. We're confident that the combination will be amazing for customers. There's no doubt that the investors got a very high return, and we're of course working hard so that the employees benefit from it, because that's what Qlik's management wants. Qlik wants Attunity's R&D like it is, but stronger and with more money. They want a minimum of disturbance; they just want Attunity to go on working."
Is the price right? Analysts assigned you a higher target price.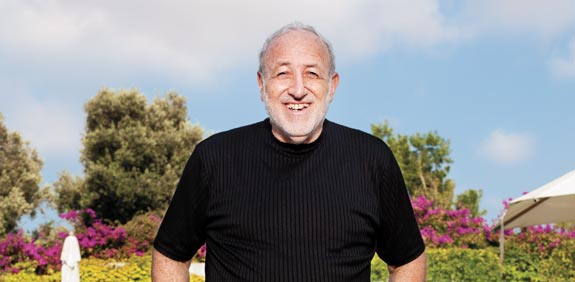 US co Qlik buys Attunity in $560m cash deal
"The share price was more or less at $20 in recent weeks. If someone thought that the price could have been higher, he could have bought for a few shekels more. It's a very nice idea to say that the price should have been higher. We hired a financial consultant for the merger, one of the largest groups in the world, extraordinarily professional, which does much larger deals. They examined what the highest price obtainable now was. You can say, 'We want another dollar,' but you're taking a risk that such an offer won't come again. This is part of the life of a public company."
This is Alon's second exit. Precise Software Solutions, which he managed, was sold for $540 million in 2002. He left the company and invested in Attunity, but the company's disappointing results at the time led him to take the CEO chair himself in 2008. Like Precise, Alon regards Attunity as a symbol of high tech in Israel. "Theses cases are essentially simple," he says. "People build exemplary technologies and companies here, and a lot of people around them get down in the dumps. There's no reason for despair. Israeli engineers have a lot of brains and innovation; there's a different way of thinking in Israel. People give up too quickly without any reason. Attunity is a symbol of one of the many things in Israel: the technological assets are terrific, but you need patience and investment, and then the appropriate return will come."
What will you do personally after the company is sold?
Alon laughs: "The person most satisfied with this whole process is my wife. I offered Qlik my help in anything they need, and I'll do everything so that the organization continues at the same pace and in the same place. It's important to me that the employees who contributed to the company and invested get the return, the proper respect due them and their work, and that everything be better than it is now. I'm not going to manage another company. On the other hand, I said the same thing after Precise, so I have to be careful about what I say. I'm going to take a short rest, and I'll go on doing nice things."
In what direction?
"The main direction is enjoyment. I enjoy work. I don't have one specific direction. I assume that people will check me out and ask if I'm interested. I'm not the same young guy I was years ago, but I'm more vigorous. I enjoy these things. I haven't slept for almost 48 hours, but I'm enjoying myself."
Published by Globes, Israel business news - en.globes.co.il - on February 24, 2019
Read the article on Globes here.